Summa 55°Thick Materials Blade(391-163)
Summa Blade,SummaThick ,Summa Materials,SummaBlade391-163,Summa 55° Blade,SummaThickBlade,Summa 55°Thick Blade,Summa 55°ThickBlade391-163,Summa Materials Blade,Summa391-163,Summa 391-163

OYEA Knives manufactures and supplies a full line of both STANDARD and CUSTOM leather cutting knives and blade…
Enquire now
Summa 55° Thick Materials Blade
Drag knife blades swivel around corners while staying pressed in the material when cutting.
Features
Perfect for sandblast applications.
Thick Materials Blade Holder (391-363) Required
Specifications
Cuts material up to .03″ (.8mm) thick.
Compatibility
F Series
S Class 2 D Series
DC Series
SummaCut
SummaSign/SummaSign Pro D Series

OYEA Knives manufactures and supplies a full line of both STANDARD and CUSTOM leather cutting knives and blades. All of our standard leather cutting knives are manufactured to exceed the exact OEM standards.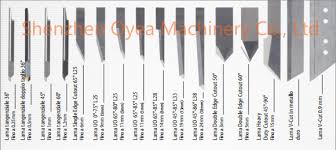 If you have more questions to know ,please contact us .
Phone Number:
+86-
18823852826
Email:

info@china-oyea.com
1659590865@qq.com
We warmly welcome every customer to send us drawings for making customized product.
Contact with us ,you will get more than what you can !