Aristo Cutting Knife Blades AND Knives
Aristo Cutting Knife,Aristo Knife Blades,Aristo Blades,Aristo Knives,Aristo Cutting Blades,Blades for Aristo Plotters,Blades for Plotter,Plotter blades Aristo
Enquire now
Oyea knives offer superior durability and cutting quality. Most of our knives and router bits are made in the USA from the world's finest Tungsten Carbide in accordance with the most rigorous standards for quality and consistency in workmanship and materials.
Our knives are guaranteed to ensure precision cutting, long lasting performance, and a perfect fit in all knife holders. Use only original Oyeaknives for the best performance and cutting quality.
We are pleased to help you select the right knives for your materials and applications!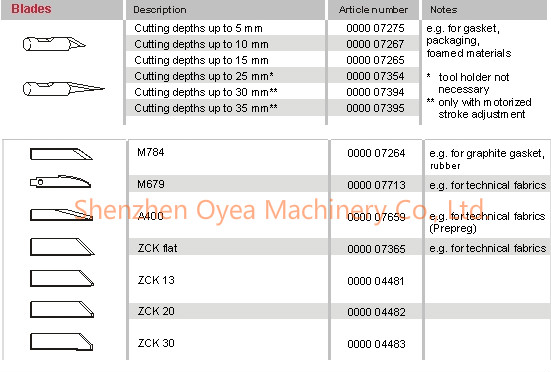 OYEA Knives manufactures and supplies a full line of both STANDARD and CUSTOM leather cutting knives and blades. All of our standard leather cutting knives are manufactured to exceed the exact OEM standards.
If you have more questions to know ,please contact us .
Phone Number:
+86-
18823852826
We warmly welcome every customer to send us drawings for making customized product.
Contact with us ,you will get more than what you can !